Samsung Galaxy A: The Best Mid-Range Phones
The Samsung Galaxy A series is ideal for those who don't need very powerful processors but still want quality imaging and storage.
During Black Friday 2023, Samsung has prepared special discounts for those looking to upgrade their phones. This is your chance to explore the Galaxy A series.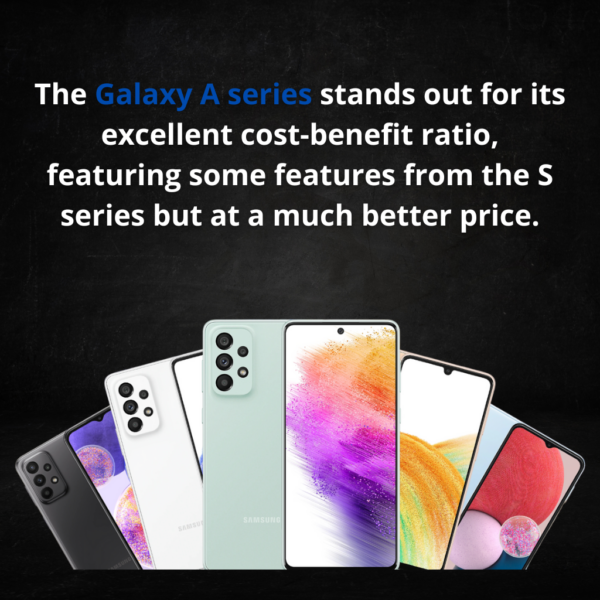 The design of these devices is noteworthy, with minimal borders and a notch in a hole-punch display format. Another attention-grabbing feature is the Infinity Display line.
There are several phones in the Galaxy A series; let's show you which ones:
Galaxy A04e
Galaxy A04s
Galaxy A14
Galaxy A14 5G
Galaxy A04
Galaxy A24
Galaxy A34 5G
Galaxy A54 5G
Let's talk about the two with more advanced features.
Starting with the most powerful, the Galaxy A54 boasts four cameras, three on the back and a 32 MP front camera.
Since its launch in March 2023, the Galaxy A54 has been lowering its price, making it a compelling option despite being the most expensive on the list.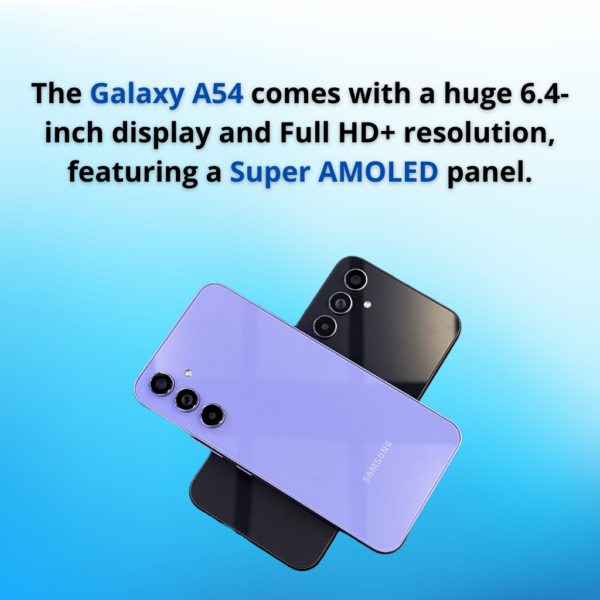 Its 120 Hz refresh rate allows for smoother navigation, ideal for gaming.
The bright screen ensures better visibility outdoors or in brightly lit environmen
Cameras are a highlight of this device; the Galaxy A54 features three rear lenses. Here's a breakdown of each:
50 MP main camera with f/1.8 aperture
12 MP ultra-wide with f/2.2 aperture
5 MP macro with f/2.4 aperture
32 MP front camera with f/2.2 aperture
The front camera enables users to capture better videos through reframing and autofocus. Additionally, it comes with the Nightography feature, enhancing photos in low-light conditions.
Integrated into the camera is an AI-powered photo remasterizer for editing and an object eraser to remove unwanted elements from images.
The Galaxy A54 comes with 6 GB or 8 GB of RAM and is available with 128 GB and 256 GB of storage, expandable up to 1 TB.
The A54 boasts a 5,000 mAh battery, lasting for more than two days.
20 hours: for 4G internet use
68 hours: for audio playback
46 hours: for calls
This device can stay submerged for up to 30 minutes at a depth of 1 meter and is dust-resistant. It supports 5G connectivity and includes NFC for contactless payments.
This Black Friday is an excellent opportunity to buy a Galaxy A54; prices have already dropped, and you can check out the promotion on Samsung's official website.
The Samsung Galaxy A34 is the version with the most interesting specifications, making it an excellent choice for a mid-range phone in terms of cost and benefits.
For those interested in upgrading their phones this Black Friday, it's worth taking a closer look at the Galaxy A34.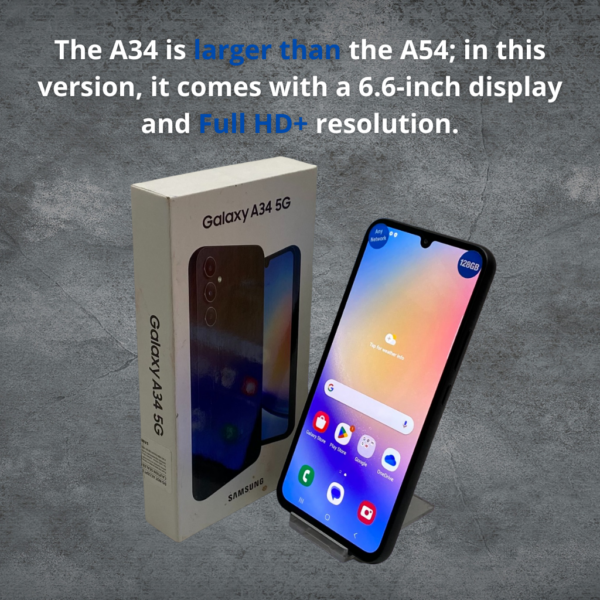 The panel is equipped with Super AMOLED technology, and the refresh rate is the same, 120 Hz.
Its finish is made of glass and plastic, and it weighs only 199 grams. It was launched in four colors: lime green, black, violet, and silver.
Here is the composition of the lenses on the Galaxy A34:
48 MP main camera with f/1.8 aperture
13 MP ultra-wide camera with f/2.2 aperture
2 MP depth sensor with f/2.4 aperture
13 MP front camera with f/2.2 aperture
It has the same image enhancement software as the A54, and both cameras can record in up to 4k at 30 fps.
The device comes with 6 GB of RAM, while the internal storage is only 128 GB, with no 256 GB version. However, it can be expanded up to 1 TB.
The A34 has the same 5,000 mAh battery, lasting for more than two days.
In addition to the fingerprint sensor, the A34 has accelerometers, a gyroscope, a geomagnetic sensor, a Hall effect sensor, a light sensor, and a proximity sensor.
It supports 5G connectivity and NFC for contactless payments.
In comparison, it offers the best cost-benefit if you want a phone from this line.
To check out the Black Friday promotion, visit the official website through the link below.