Samsung Galaxy M: Powerful and Affordable Phones
The Samsung Galaxy M models have all the features you might need for daily use, perfect for simple tasks.
This Black Friday, the Galaxy M becomes an interesting option due to its powerful hardware and lower cost.
To help you choose, let's explore more about the Samsung Galaxy M model line: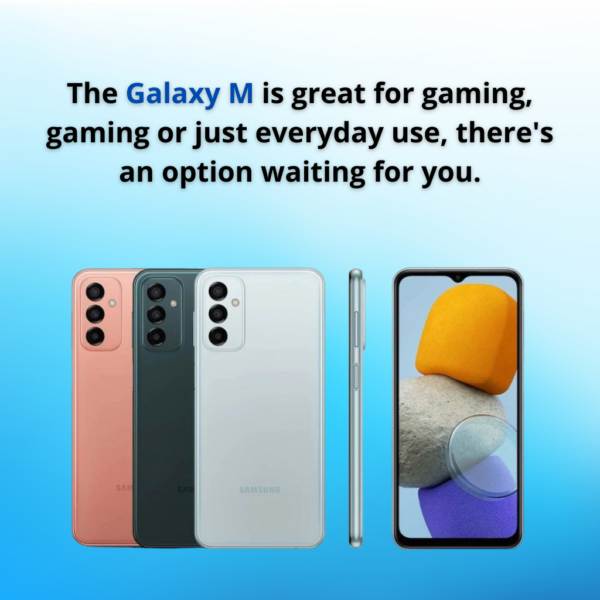 Known for combining advanced technology with more affordable prices, the Galaxy M series is a favorite among those seeking a quality phone without breaking the bank.
There are several phones in the Galaxy M series; let's show you which ones:
Galaxy M12
Galaxy M13 5G
Galaxy M22
Galaxy M23 5G
Galaxy M32
Galaxy M52 5G
Galaxy M54
Galaxy M62 5G
Let's talk about the two with more advanced features.
Starting with the Galaxy M62, it catches the eye with its size and the four sensors on the rear camera.
This phone is available in blue and black, with internal storage of 128 GB and 8 GB of RAM.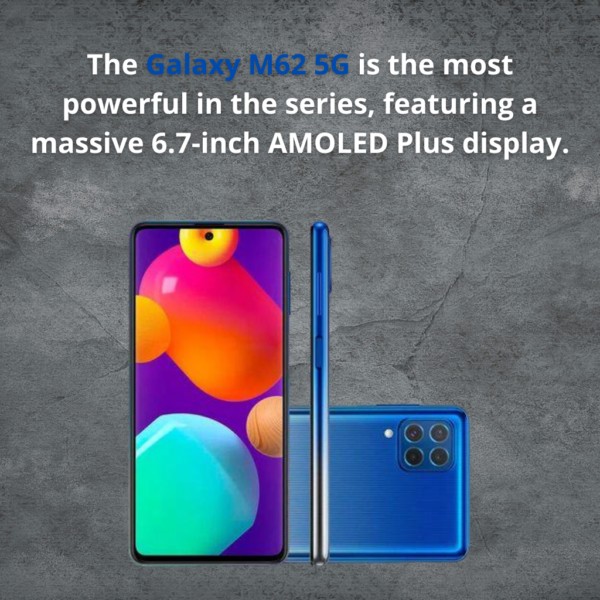 The M62's colors have a metallic and gradient hue, giving a unique style to the device. Despite its plastic finish, it also comes with Gorilla Glass protection for the glass.
Colors appear more vivid and bright with the Super AMOLED Plus display, generating Full HD+ images.
With the M62 5G, your photos and videos will look amazing. Here's how the camera setup is:
64 MP main camera (f/1.8)
12 MP ultra-wide (f/2.2)
5 MP macro (f/2.4)
5 MP depth sensor (f/2.4)
32 MP front camera (f/2.2)
Noteworthy features include Night Mode for better images in low-light environments and the Single Take feature, generating photos and videos with just a simple touch on the shutter with the help of Artificial Intelligence.
In terms of performance, this model is quite similar to the Galaxy Note 10, ensuring good use without consuming too much battery.
What might grab your attention is the size of the 7,000 mAh battery, one of the most powerful among phones on the market.
It also comes with a fast-charging system, promising a full charge in less than two hours.
Using the Samsung Pay virtual wallet, you can make contactless payments using NFC technology.
This Black Friday is an excellent opportunity to buy a Galaxy M62; prices have already dropped, and you can check out the promotion on Samsung's official website.
This Black Friday, it's worth checking out the Galaxy M54. Although it was launched in 2022, it still presents itself as an excellent cost-effective phone option.
With the M54, you'll get excellent image quality for your photos and videos, along with a powerful battery that can last for more than two days.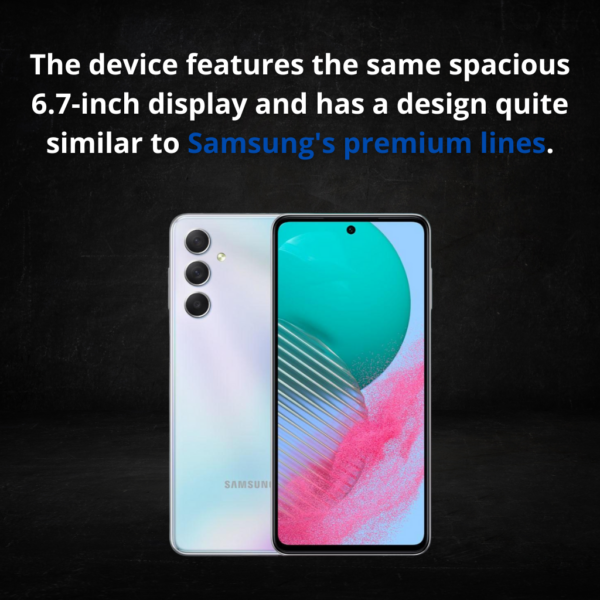 On the front, it has a discreet notch to accommodate the front camera and minimal interference from borders. You'll find it in blue and silver.
This phone has an arrangement with three rear lenses; here's how it's composed:
108 MP main camera with f/1.8 aperture
8 MP ultra-wide camera with f/2.2 aperture
2 MP macro sensor with f/2.4 aperture
32 MP front camera with f/2.2 aperture
The M54 has various AI tools to edit your photos and optimize clicks. Additionally, features include photo remastering and object eraser, and functions that enhance resolution.
You can choose between two storage options: the first is 128 GB, while the second is 256 GB.
Both can be expanded via a memory card. Speaking of working memory, the M54 has only one version with 8 GB of RAM.
The battery is slightly smaller than its younger sibling, but still robust, at 6,000 mAh. According to Samsung, it can play videos for up to 23 consecutive hours.
The M54 also has a contactless payment system via NFC and supports 5G networks. It also features a side fingerprint sensor and a USB-C port.
To check out the Black Friday promotion Samsung has prepared for 2023, visit the official website through the link below.